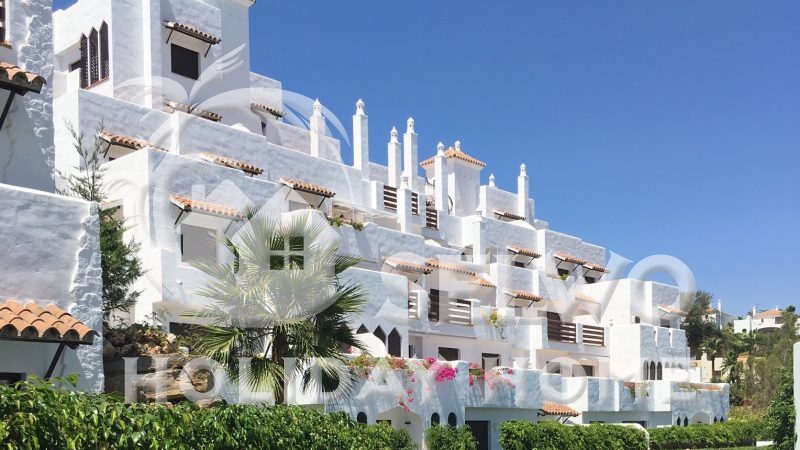 A spacious groundfloor apartment at Golf Hills for rent.
This groundfloor apartment is located nearby the pool area with a garden facing west which means sun from early morning until 3-4pm in the afternoon in the summer. The garden includes a terrace with dining table, sunbeds and a barbeque. How about a breakfast on the terrace and then a swim in the pool followed by some sunbathing? To conclude the evening maybe a barbecue with some quality meat and an ice cold drink from the Bosch fridge/freezer? Can this quality of life be beaten? To add to your outside dining experience the table on the terrace has recessed lights that gives a nice effect when darkness falls! The apartment consists of two bedrooms and two bathrooms. The living room is luxuriously furnished and has a dining area, 49″ ultra HD TV, WIFI with tablet pc access and a luxury sofa bed. The kitchen is fully equipped with everything from a coffee maker to a corkscrew. There is a recessed lighting along the ceiling in the living room with colour selection. How about a late evening in the "red room" with a glass of whiskey to round off a pleasant evening or "go green" with a soothing mint tea? As you can see, this apartment is something special. It has quality furniture throughout and all the technology you need for work and play.
Golf Hills is located in a quiet and relaxing environment but is still close to everything. Golf Hills has quickly become a popular choice for families with children and for those who want to play golf. For families, it is good to know that the Golf Hills has a large pool area with separate pool for children and as this apartment is on the ground floor there are no safety concerns regarding balconies etc. You're also only a short walk from the Selwo Aventura, the Costa del Sol's best Zoo that with their animals and adventure land appeals children of all ages. For those interested in golf you have La Resina Golf only 200 meters away. Additionally, there are a number of other golf courses in the nearby area.
For more info follow this link:
https://selwoholidayhome.com/properties/golf-hills-holiday-home-9/