A visit in San Pedro de Alcantara and Puerto Banus
Is there anything better than a promenade in nice weather?
Last week we parked our car along the San Pedro Alcántara promenade,
not too far from Restaurante La Pequera.
After a short walk we stopped for a cafe con leche at Taberna del Alabardero.
Their comfortable rattan sofas are so inviting where they are lined up along the promenade.
It is not the first time we get stuck there for a little while.
A boardwalk can be used in so many different ways.
As an entrepreneur with several active businesses, there's always many balls in the air.
Sometimes you need to clear/dispel thoughts,  fresh air and some exercise does not hurt either!
Sometimes you need to get new ideas and suggestions (these walks are usually creative moments for us).
Many thoughts and business focus has been created and discussed at these walk hours.
After our coffee we continued to walk east along the beach.
We passed among other places Ocean Club Marbella before we came to Puerto Banus.
This time we chose a small boutique-street (Calle Ribera), which runs parallel to the harbor street.
Calle Ribera is considerably calmer and also gave a little shade for our little Figo.
Lotta managed to go shopping in two stores, while me and Figo patiently waited in the shade.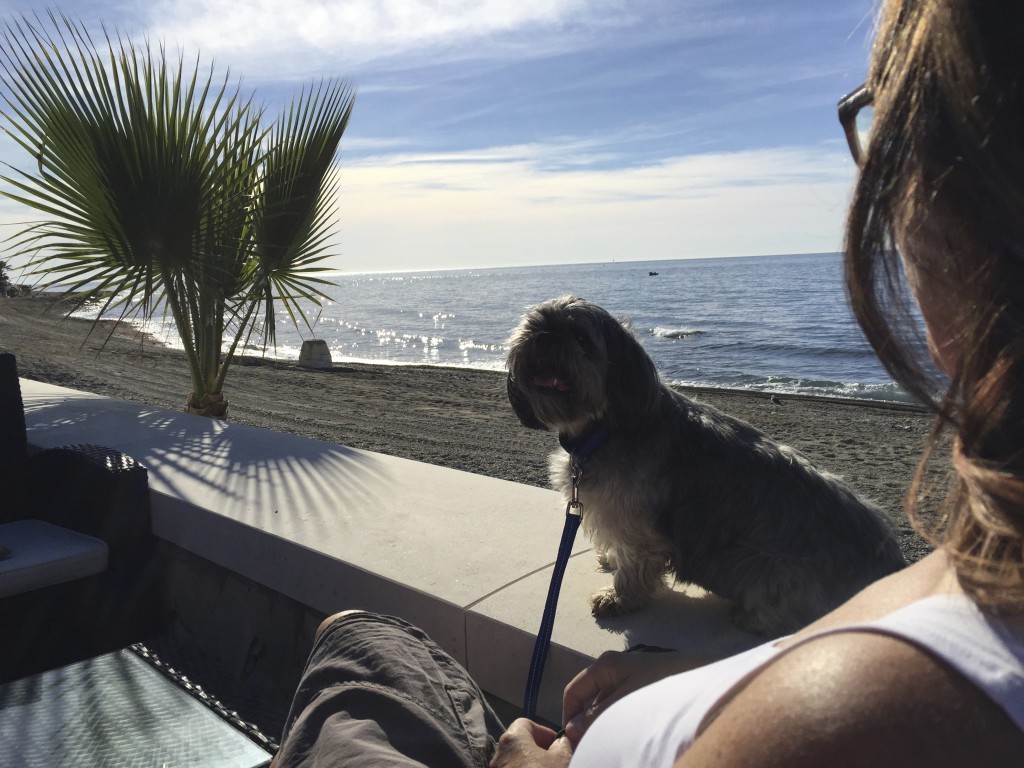 Restaurante Da Paolo down on the harbor street became today's second stop.
With more than 30 degrees in the shade, it's important with liquid filling.
Lotta selected a glass of Rosé while I (the driver) was stucked to Aqua con gas.
To this we had a tuna salad and a chicken salad.
It's always nice to sit along the harbor street and see all these luxury cars show off.
It's not every day you get to see Rolls Royce, Bentley, Aston Martin, Ferrari, Lamborghini, McLaren and others during an hour to pass a few meters away from you.
Some think Puerto Banus is superficial, too much, etc.,
but we like Puerto Banus because it stands out.
When you have been there for a few hours, it is good to get away,
pulse is slightly too high for our liking. Something about age?
After a long lunch and more liquid filling, we decided to go cross Avenida de Julio Iglesias and go thru "square trade" at the Plaza Antonio Banderas.
There was also a quick stop at Zara Home for some small purchases before we decide that we couldn't carry more packing than this all the way back.
We walked slowly down the Astral (Cocktail bar) to go along the harbor street back towards the car.
Half an hour later we arrived at our car and went back home again.